This article is for Beanworld the place and process, if you are looking for The Comic Book see Tales of the Beanworld if you are looking for the blog see Larry Marder's Beanworld (blog)
Beanworld isn't a place, it's a process. Sure, Beanworld is an artifact of my life, but then it is read by someone else and they, in turn, make their own Beanworld inside their own imagination. Their Beanworld isn't my Beanworld; it is their Beanworld. I do believe my ad slogan for Beanworld is indeed a true statement. "It is a most peculiar comic book experience."
[1]
-- Larry Marder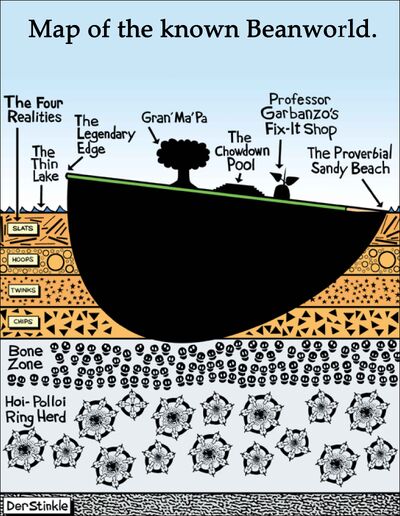 Beanworld is not just a place, it is a process.
The Known Beanworld consists of many features. Starting on the right and working our way counter-clockwise we find:
References
Edit
Ad blocker interference detected!
Wikia is a free-to-use site that makes money from advertising. We have a modified experience for viewers using ad blockers

Wikia is not accessible if you've made further modifications. Remove the custom ad blocker rule(s) and the page will load as expected.