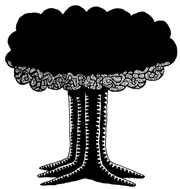 Gran'Ma'Pa is the spiritual guardian of the Beanworld and parent of the Beans (also known as a Parental Totality . Gran'Ma'Pa does not speak, communicating through actions and the occasional Sprout-Butt.
Gran'Ma'Pa provides guidance and protection to the inhabitants of the Beanworld. In times of true crisis, Beans have called upon Gran'Ma'Pa for help, with unexpected results. Gran'Ma'Pa was instrumental in saving the Hoi-Polloi in issue 1, The Legend of Pop! Pop! Pop!.
Also, a troubled bean called upon Gran'Ma'Pa for help, and received a strange gift, becoming Heyoka.
We've also been shown how Gran'Ma'Pa produces a new generation of Beans. See issue 8, Deep Down; Down Deep for a full explanation.
Gran'Ma'Pa was not always mute. The backup story Tales of the Goofy Jerks in issue 15 tells part of the story of why Gran'Ma'Pa speaks through Sprout-Butts.
Ad blocker interference detected!
Wikia is a free-to-use site that makes money from advertising. We have a modified experience for viewers using ad blockers

Wikia is not accessible if you've made further modifications. Remove the custom ad blocker rule(s) and the page will load as expected.