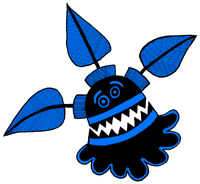 Mr. Teach'm is a teacher. He was responsible for Mr. Spook's education. He did this as a favor to the Goofy Sermon Jerk. (See issues 10 and 15).
He has also been seen in confluence with the Goofy Sermon Jerk, and also conducting tours of the service stations.
Larry Marder has said that the three feather-like objects radiating from Mr. Teach'm are symbols of status, as is the one on Professor Garbanzo's Fix-It Shop.
Ad blocker interference detected!
Wikia is a free-to-use site that makes money from advertising. We have a modified experience for viewers using ad blockers

Wikia is not accessible if you've made further modifications. Remove the custom ad blocker rule(s) and the page will load as expected.